One of the easiest ways to improve the sound of your Fender Stratocaster is to upgrade the pickups. Stratocasters are famous for their signature look of three single coil pickups, but these single coil pickups can have a humming sound that you may not like. Some Stratocasters have their middle pickup wound backwards in order to act as a humbucker. In order to combat this humming noise, Fender players have the option of upgrading to more advanced pickups.
Deciding to upgrade to better pickups is only the first step. Fender offers an extensive collection of pickups that each offer slightly different sound and action. Each of the pickup sets listed below can be purchased new for around $200. The hard part is deciding which style you want to commit to.
EDITOR'S NOTE: Changing your Fender's pickups isn't just for Stratocasters — change the pickups in your Telecaster, Jaguar, Jazz Bass or just about any other model Fender guitar to achieve a different tone — whether you're looking for Vintage sounds or Heavy Metal drive you can find just the right pickups to suit your style.
Fender Vintage Noiseless Pickups
The Fender Vintage Noiseless Pickups offer the sound of a vintage Strat but without that annoying hum. They are made with Alnico 5 magnets and enamel coated wire. They are able to achieve the humbucking effect because there are two coils stacked on top of each other. A set of Fender Vintage Noiseless Pickups goes for about $200 on Musician's Friend.
Order from Musician's Friend: Fender Vintage Noiseless Strat Pickup Set
Fender Hot Noiseless Pickups
The Fender Hot Noiseless Pickups were originally designed for Jeff Beck because he wanted a bigger sound than the standard pickups. These pickups are a basically a bigger, more extreme version of the Vintage Noiseless Pickups. They have a warm, bluesy sound at the neck pickup and can really scream at the bridge pickup. This is probably the most popular pickup to upgrade to. You can grab a set of Fender Hot Noiseless Pickups from Musician's Friend for about $200.
Order from Musician's Friend: Fender Hot Noiseless 3 Pickup Set White
Fender Custom Shop Texas Special Pickups
The Fender Custom Shop Texas Special Pickups are all about the Texas blues style. They are made with Alnico 5 magnets that are overwound with enamel coated magnet wire. The middle pickup is reversed, so it acts as a humbucker in 2 and 4. These pickups are designed to achieve the Stevie Ray Vaughan blues sound that is defined by strong bass and midrange with crystal clear highs. Musician's Friend sells a set of Fender Custom Shop Texas Special Pickups for around $200.
Order from Musician's Friend: Fender Custom Shop Texas Special Strat Pickups
Fender N3 Noiseless Pickups
Fender's N3 Noiseless Pickups are probably the most versatile pickups you could upgrade to. They are designed to be able to play any style of music. They are made with three different kinds of Alnico magnets and uses Fender's coil stacking technology to cancel out the humming noise. Using different magnets for each coil gives them each their own distinctive sound. That combination allows for power and warmth as well as sparkling clear harmonics. These pickups also go for about $200 on Musician's Friend.
Order from Musician's Friend: Fender N3 Noiseless Stratocaster Pickups Set Of 3 White Covers
Fender '50s, '54, and '69 Strat Pickups
If you are looking for an even more specific sound, Fender also offers pickup sets that can give you the sounds of their '50s, '54 and '69 model Strats. The '50s pickups are called Fat '50s pickups because of their strong bass. The '54 pickups reflect a "clean, edgy Strat" and the '69 pickups are designed to give you the late '60s blues rock sound. These pickups can all be found on Musician's Friend as well.
Custom Shop '69 Pickups at Musician's Friend: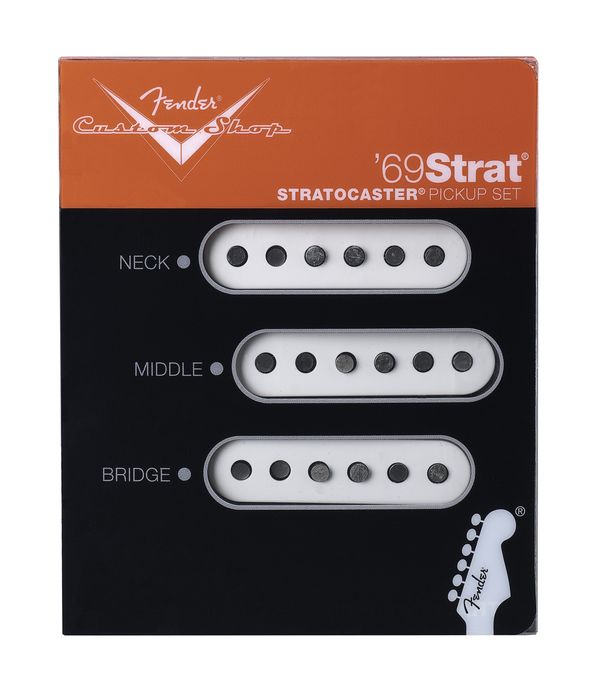 DIY How-To
Changing your guitar's pickups is an easy job tackled by most folks with a little bit of DIY spirit. Using the soldering iron is the trickiest portion of the job. Here's pickup guru Seymour Duncan to give you a step by step lesson in the process. Of course, if you're worried about ruining something on your precious guitar you could always pay a repair tech to do the job for you. We know lots of players that buy a $100 electric to experiment on and to serve as a practice "horse" for various setup and modifications projects. That way they are more confident when conducting mods on their real pride and joy instrument.